This won't be a Valentines Day wishlist. While I love the idea of red bras, I'm never as into them in real life as I am in principle. Pink has never been my thing either. In general, if someone wanted to gift me lingerie for Valentines Day, that would be a terrible gift. So I'm just going give my opinion on what the hottest bras out there for the bust on the slightly fuller side.
1) Lepel is one of those brands that always sits in the back of my mind. I never think about it as much as I think about brands that fit my shape well like Freya and Ewa Michalak or as much as some of the more aesthetically pleasing brands out there like All Undone or Fortnight. I shouldn't ever been shocked when they turn out a beautiful style, but nevertheless I was when they turned out the Rosey:
 (credit to Brastop)
2) I have never thought of Wonderbra as a particularly delicate brand, and I frequently forget that they do in fact carry bras in my size. I was browsing through Amazon's intimates when I saw this, and it came in my size. While the Wonderbra Natural Push Up doesn't look supportive, it still looks badass don't you think?
 (credit to Wonderbra)
3) It has recently occurred to me that even though I wear 32FF approximately these days, by breasts are relatively self supporting. This opened a new realm of possibilities, including giving patronage to some of the talented independent lingerie designers with storefronts on Etsy. I positively adore Sophie Hines and their androgynous designs with straight lines. Hopefully I can make the Geometric Ascension Bra mine.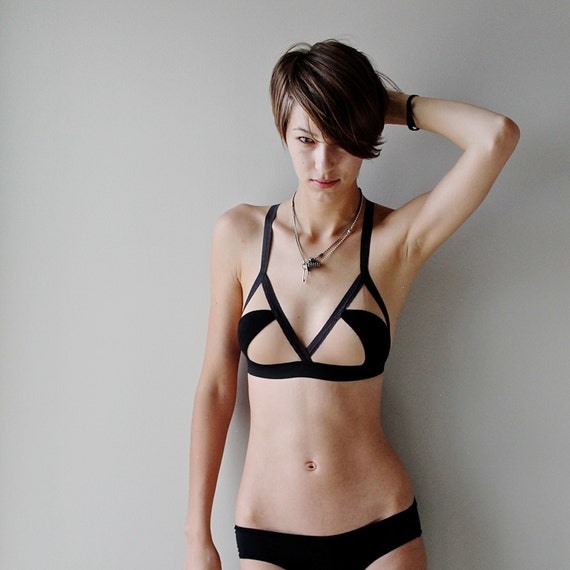 (credit to Sophie Hines)
4) Ewa Michalak is a perennial favorite, and with good reason. They have one of the largest size ranges in the world that have been proven to work equally well in a wide range of sizes (sadly we're not to the point where they can work on all shapes, but we're getting there). I am a sucker for bras with an outline and the new SM Kusidełko is no exception to this rule.
 (credit to Effuniak)
5) Gossard always comes up with a nice mix of girlish and elegant. Their Rochelle Waspie Suspender definitely falls into the ladder catergory.
 (from left to right credit to Bra Closet and Gossard)
6) Sugarshape is a brand that never quite gained notoriety in the English speaking bra world. Their idea was to churn out design possibilities and have their customers vote on them and the designs that get the most votes go to production. It's a fantastic idea and they certainly deserve more attention, as their bras appear to be well made and beautiful.  Additionally, they have a sizing system where instead of band and cup sizes, which can get downright confusing, they use underbust and bust measurements to make the process of finding a bra that fits well less daunting. Their BH Emmy is such a beautiful color and like everything else on this list, I must get it.
 (credit to Sugarshape)
7) Marlies Dekkers has always been known for their stringy geometric designs and liberal use of the cage bra. I have had my eye on their signature triangle thong for a long time now.
 (credit to Marlies Dekkers)